Are Artificial Sweetener Side Effects Ruining Your Fat Loss Efforts?
In this blog post I want to talk about artificial sweetener side effects and how it can affect your fat loss efforts. A client of mine named "Claire" came into the studio the other day drinking a diet soda. Typically clients would try to hide the fact that they're drinking poison but not Claire. Claire was actually showing it off and proud of the fact that she made the "healthy" switch from drinking regular soda to diet soda.
Claire, Claire, Claire...One of The Many People Suffering From The "0 Calorie Confusion"
I quickly sat Claire down, put my hand on her shoulder and softly broke the news.
Now...you may be thinking to yourself..."But Brad, diet soda has 0 calories. If I'm not adding calories to my body, isn't that a good thing?"
If the 0 calories was in the form of natural water, I'd give it a boo-yah. But...diet soda is far from the pureness of H20. The chemicals (a.k.a. artificial sweeteners) added to diet soda and numerous other foods, can still negatively affect your health and fat loss efforts (not to mention the artificial sweetener side effects).
Here's why...
Sugars Evil...But So Are The Artificial Sweetener Side Effects Associated With Sucralose, Aspartame, and other Zero Calorie Artificial Sweeteners
Don't be like Claire and fall for the healthy hype surrounding zero calorie artificial sweeteners. It's true...products sweetened with sugar and corn syrup contain more calories than artificially sweetened drinks/food. But replacing sugar with zero calorie artificial sweeteners is not the right approach for your fat loss efforts (or health efforts for that matter). I'll share the right approach with you shortly!
Before I dig in any further, let me "out" the evil Mr. Zero Calorie Artificial Sweetener cousin since he is often disguised by many different names. Hopefully you're not consuming many (if any) of these chemicals. They include:
Acesulfame Potassium or Acesulfame K
Aspartame
Saccharine
Sucralose
Food/drink markets have jumped on the low sugar health craze but unfortunately they've taken the easy and cheap way out. They do this by substituting sugar with these sweetened chemicals for added taste. But don't just take my word for it. See for yourself.
Here are a few of the main "health food" offenders...go to your kitchen and look at the ingredients list of any of these low sugar, low carb, light, or diet foods/drinks:
Did you see any of the evil cousins listed in the ingredients?
What Do Artificial Sweeteners, Pesticides, and Bleach Have in Common?
You've probably seen Sucralose listed a few times in the ingredients of some of your packaged "health foods".
Sucralose (aka splenda) is a sneaky and deceitful one. He claims he's made from real sugar but his structure has been modified to include chlorine (yummy). If you don't know what chlorine is, let me put it this way...it's used to kill things...think pesticides and bleach.
Does this sounds like something you should be feeding your kids?
Are The Artificial Sweetener Side Effects Better For Me Than Sugar & Corn Syrup Flavored Foods?
It doesn't have to be either or...I'll explain shortly...but first...lets compare one evil next to the other...
Sugar and high fructose corn syrup:
are empty calories (meaning the calories don't provide any nutritional benefit)
cause blood sugar spikes thus increasing appetite
cause insulin spikes and the creation of a FAT STORING body
Artificial sweetener side effects:
do not contain calories...but they may increase your appetite and cause sugar cravings...
...so essentially if you fall to these cravings, you're really not saving calories.
they may cause insulin spikes...which promotes fat storage.
may be linked to potential cancer risks as well as negative effects on your body's organs (kidney/liver) and causing gastrointestinal problems.
may cause headaches
may cause development issues in children (and fetuses)
may be the cause of many more health issues.
Now you may notice I've used "may" many times. Even though there has yet to be conclusive evidence of the above issues with humans...they have been finding these issues during studies on animals.
Regardless, I still prefer to take the natural approach and avoid these chemicals.
To sum it up...to get lean and healthy...GO NATURAL...try to avoid both sugar and chemical artificial sweeteners.
The Healthy Alternative: Natural Sweeteners
Since life is all about balance...I'm not saying your can't satisfy your sweet tooth. Just do this by making smart choices. Although all but one of the below ARE NOT 0 calorie substitutes, they are natural and contain antioxidants and nutrients. Therefore, they're not considered empty calories. Here are a few natural sweetener sources:
Honey (raw)
Maple Syrup (organic)
Sorghum Syrup (if you're not from the Southern US you may not have heard of this)
But what if you want to sweeten your food without adding calories (even if the calories contain antioxidants and nutrients)?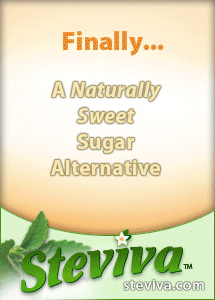 Stevia - The 0 Calorie NATURAL Sweetener
If you're a member of TEAM LEAN, you've probably seen a few of my recipes include STEVIA. I first learned about this 0 calorie natural sweetener a few years ago. I use it whenever I'm looking to sweeten something up...without adding calories.
If you haven't heard of stevia yet, you're not alone. It's a natural sweetener that comes from a South American herb (when dried). It's been used for 1000s of years in certain parts of the world and I've yet to see any negative health concerns using this natural sweetener (it's been all positive health reports to date).
But be careful...
...since it is up to 300 times more sweet than sugar. So if you're substituting sugar for stevia, don't just do a 1 for 1 ratio switch.
Switch to Stevia if you're currently using an artificial sweetener
Unfortunately stevia is still not available in all grocery stores yet. If this is the case, check out my friends at Steviva. They sell a high quality "Stevia Blend" that contains another natural sweetener called erythritol.
Start using it in your:
Baked goods (like homemade protein bars - my TEAM LEAN members love my protein bar recipes)
Oats
Tea or coffee
Plain yogurt
Smoothies (if you need more sweetness)
Here's a link to the product: Steviva Stevia Blend
There you have it...if you're looking to sweeten up your food, go natural. Use natural sweeteners such as honey, maple syrup, or stevia.
When you ditch sucralose, aspartame, Acesulfame Potassium or Acesulfame K, and saccharine...you'll also ditch the artificial sweetener side effects associated with them.
Have you ever experienced negative artificial sweetener side effects? Tell me about them below.
Tags: artificial sweetener dangers, artificial sweetener side effects, artificial sweeteners, artificial sweeteners vs natural sweeteners, aspartame, health effects of artificial sweeteners, honey, maple syrup, natural stevia, natural sweeteners, risks of sucralose, saccharine, splenda, stevia, sucralose